Does your internet explorer explorer keep crashing or seems to be unresponsive whenever you open up webpages?and pages seems to take forever to load?
Here is an easy guide with step by step guide to get it to repair internet explorer.
First Method – Start Internet Explorer in Safe Mode
Windows 7, vista, xp – Click on the "Start" Button at the bottom left. Type in "Internet Explorer" without quotes.
Windows 8 users – Press Windows Key + R at the same time. Type in "iexplorer -extoff" into the box.
Internet Explorer Without Addons should appear. Select that and surf.
If it works in the No Addon Mode, Go to Method 2 below
Second Method – Reset Internet Explorer
1) Go to Control Panel
2) change the "View By: Category" to "View by Large Icons"
3) Select "Internet Option"
4) You should see a few tabs, General, security, advanced, etc. Go to the last tab "Advanced" and select the Reset, a box which is similar to the image below should appear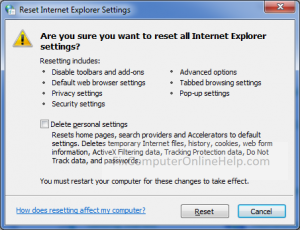 Select Reset without "deleting personal settings"
And try again.
Third Method – Reset and delete personal settings
Same method as method one, but tick the box "delete personal settings"
Fourth Method to Repair Internet Explorer – Uninstall and Reinstall Internet Explorer.
If the above 3 methods do not work to solve your internet explorer issue, we will have to uninstall the program.
Again, go to "Control Panel" and select the option "Turn Windows Features on or off". Look for internet explorer, and untick the check box and select "OK". A warning will appear, mentioning that it will affect other windows feature, etc. Since it is not working now, we will have to uninstall it.
Restart the system.
Once it is done, proceed to http://windows.microsoft.com/en-SG/internet-explorer/download-ie or google for "Download Microsoft Internet Explorer" Go to the site which has microsoft.com as the domain. and download the program.
Install the program and your should be able to get your internet explorer working for you again.