Generally when a synology NAS starts to produce beeping sound out of the blue, it means that there is some issues with the device itself. And to find out what went wrong, you will need to head into the DSM management page to find out what went wrong.
There could be several reasons why the synology beeps.
Fan Malfunctions (Low priority)
Volume Degrades or crashes (high priority)
SSD Cache is abnormal (high priority)
System powers on (normal operation)
System shuts down after pressing power button  (normal operation)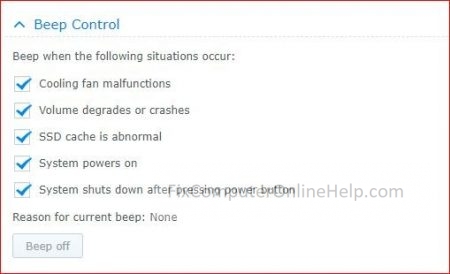 From my experience, synology unit will make continuous beeping noise when problem 2 occurs.
Fire up your web browser and type in the IP address of your DSM. If you are not sure of the IP address of the Synology network attached storage, you may refer to this link "Locate your synology in the network"
Once login into the management page, open up "Control Panel" and head over to "Hardware & Power" 
Look for the button to "beep off" Once selected, the noise should immediately stop.
Click on the top left icon in the synology management interface page and select storage manager

synology nas access storage manager

Once in that page, Head over to "Overview" and click "Repair" That will begin works to repair the system partition.

Alternatively, head over to "Storage Pool" and check if the status has been changed to "Degraded" If yes, go to the HDD / SSD tab to check which drive has failed. Remove and replaced accordingly with a same size or bigger capacity.
Once replaced, click on "Repair" from the "Action" menu.
Follow the instruction to repair the storage pool.